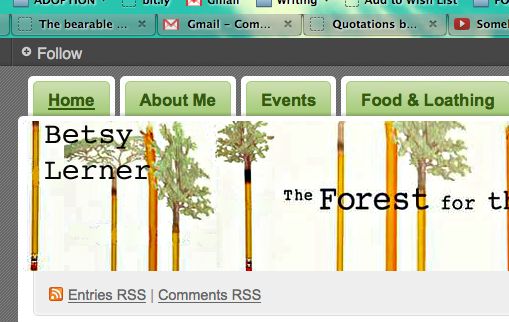 This is a bit of a cheat. Okay, it's a huge cheat. This post isn't about how I discovered Betsy Lerner. But I have to put something here, so until I write my own Betsy story, I'm throwing it out as a question:
How did you meet Betsy Lerner? By "meet," I mean, how did you find her blog? As a bonus, you might also share what impelled you to stop lurking and start commenting. I noticed a whole slew of new commenters around the first of January. Maybe it was a New Year's resolution for some writers: I will stop lurking and start commenting on Betsy Lerner's blog. What got you to speak up?
That's it. You can answer in the comments section or make it a post on your own blog, as you like. You don't have to link to this post, but I'd love it if you do, so I can see how far this flies. You might also want to link to Betsy's blog, just to let her feel the love.
Is this tacky? Am I ass-kissing? If so, join me; it'll be fun. Consider it an early Valentine to our darling.
p.s. To all of my four followers: please inform your friends about this, so they can participate also.