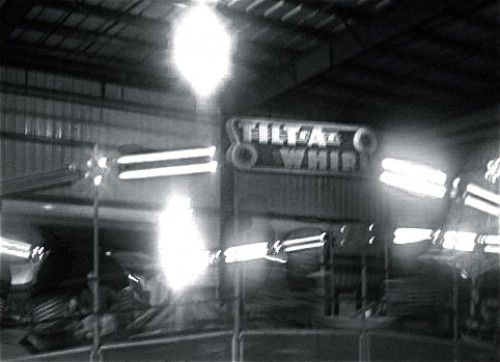 I once fasted exclusively on juice and water for a week, then went with my best friend to the county fair, where I broke the fast with a greasy burger before climbing onto the Tilt-a-Whirl. For those who do not remember the Tilt-A-Whirl, a summary of its action is easily found on Wikipedia:
The Tilt-a-Whirl is a platform-type ride, consisting of seven freely-spinning cars that hold four (sometimes three) riders each, which are attached at fixed pivot points on a rotating platform. As the platform revolves, parts of the platform are raised and lowered, and the resulting centrifugal and gravitational forces on the cars cause them to spin in different directions and at variable speeds. The weight of passengers in these cars may intensify or dampen the spinning motion of the cars, adding to the unpredictable nature of the motion. Mathematicians call this unpredictable nature chaotic motion.
Chaotic motion. That was us. That was me. The Ohio Players screamed Fiiiie-yuh from the loudspeakers. From the chaotic orbit of our vanishing youth, we screamed back. Patty said I turned green, but the burger stayed down. I would gorge on life—or what I thought was life—even if it made me sick unto death. Until it did.