About Me, or, Farewell
As R. Crumb once said on a t-shirt I owned as a kid: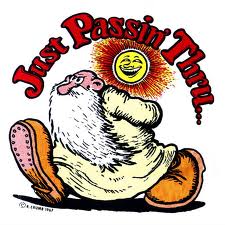 I'd like to make this blog, as well as the rest of my life (or lives), a bittersweet prose poem (and perhaps occasionally a poem-poem), or a song of farewell, to this cruel and beautiful world we live in. This world is not our true home, but a very good facsimile, once you get out of the suburbs.
I sing, I cook, I read and write. I like to take photos and shoot video. I'm not good for much else, including the ukulele, but still I try. I'm also funny, if your taste in humor tends toward the ashy. I chant Hare Krishna more than any other single thing I do, except breathing, sleeping, and eating (and perhaps, now, writing), but I'm simply awful at it. Still, I keep chanting, because that's what makes everything else worth doing. On really bad days, Facebook takes over everything.
I think and write about death because "our very existence is in the atmosphere of non-existence." And yet, existence exists, somewhere. That is the intelligence that I've received from reliable sources, and I believe that it (eternal existence, that is, along with perfect knowledge and ever-increasing happiness) is much more likely to be found than weapons of mass destruction in Iraq, and sooner, too. For that matter, it's more real than all the tea in China. Sometimes it's just out of reach, sometimes I brush right up against it.
I love my husband, the ocean, the Ganges (any large body of water, really, including Niagara Falls). And commas, excessively so. It's the pauses that refresh.