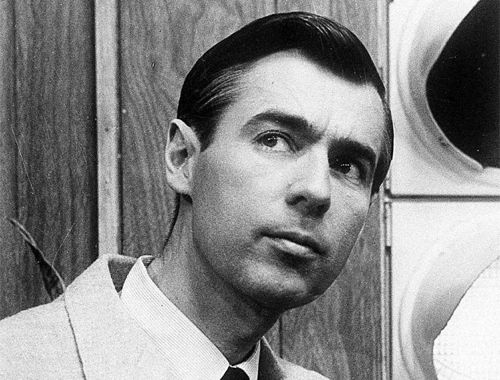 I was never real crazy about Mr. Rogers. From earliest memory, I was surrounded by adults who, although loving, were also somewhat crude and harsh, who yelled a lot (and to be fair about it, the kids of my social circle wouldn't have minded anyone otherwise), and who didn't hesitate to slap you if you stepped too far out of line. Mr. Rogers' soft-spoken gentleness, by contrast, seemed like it was meant for babies, or those who were the R-word. (or, as Mr. Rogers might say, "special"). I was too grown up, too smart, and too tough to accept his earnest invitations into his magical little bubble of a world. Besides, I was weaned on the Three Stooges, and Rogers' King Friday and Henrietta Kitty were a bit tame for my taste.
The truth—let's face it: I was probably scared of being vulnerable enough to let him in.  It was imperative that I adapt to my surroundings, rather than allow myself to imagine another way for a half-hour each weekday. Besides, in my house, the one who loved you was the one who fed you, who put clothes on your back and a roof over your head, and who paid the tuition that provided the food, shelter, and clothing for the nuns who yelled at you in loco parentis. To be nice to someone was not at all the same as to love them. In fact, the inverse was probably true. And Mr. Rogers' neighborhood was, after all, only make-believe. The gulf between us was too wide to commute back and forth on a daily basis.
But recently I've happened across a couple of items on the internet that have made me rethink Mr. Rogers and what he was about. I'm now convinced that the man was a saint, and wish I'd spent more time in his 'hood. Since I was watching Sesame Street, Reading Rainbow, and Blues Clues right up into my late 20s and early 30s, it wouldn't be at all out of character for me to hop on board Trolley and go for a spin to the Neighborhood of Make-Believe one of these days. For the media-reared, that's a big part of what YouTube is about: a second chance to re-live vicariously.
The video remix of Fred Rogers that's going around is delightful, and inspired me to find out more about him. What I happily discovered was this article by Tom Junod (who also wrote "The Falling Man," for Esquire, a work that will stay with me as long as I live). "Can You Say . . . 'Hero?'" brought me to tears more than once. It's a lovely piece, revealing Fred Rogers as someone not quite of this world, but who could move through it, work in it, and even fight against what he saw as wrong with it, completely on his own terms. It made me reconsider the emotional callouses that I spent years building up in a harsh milieu. Seeing how Fred Rogers stayed soft and tender, yet so focused and influential, makes me think that, maybe, nice guys don't always finish last.
An excerpt:
He was with his producer, Margy Whitmer. He had makeup on his face and a dollop of black dye combed into his silver hair. He was wearing beige pants, a blue dress shirt, a tie, dark socks, a pair of dark-blue boating sneakers, and a purple, zippered cardigan. He looked very little in the backseat of the car. Then the car stopped on Thirty-fourth Street, in front of the escalators leading down to the station, and when the doors opened–"Holy shit! It's Mister Fucking Rogers!"

—he turned into Mister Fucking Rogers. This was not a bad thing, however, because he was in New York, and in New York it's not an insult to be called Mister Fucking Anything. In fact, it's an honorific. An honorific is what people call you when they respect you, and the moment Mister Rogers got out of the car, people wouldn't stay away from him, they respected him so much. Oh, Margy Whitmer tried to keep people away from him, tried to tell people that if they gave her their names and addresses, Mister Rogers would send them an autographed picture, but every time she turned around, there was Mister Rogers putting his arms around someone, or wiping the tears off someone's cheek, or passing around the picture of someone's child, or getting on his knees to talk to a child. Margy couldn't stop them, and she couldn't stop him. "Oh, Mister Rogers, thank you for my childhood." "Oh, Mister Rogers, you're the father I never had." "Oh, Mister Rogers, would you please just hug me?" After a while, Margy just rolled her eyes and gave up, because it's always like this with Mister Rogers, because the thing that people don't understand about him is that he's greedy for this–greedy for the grace that people offer him. What is grace? He doesn't even know. He can't define it. This is a man who loves the simplifying force of definitions, and yet all he knows of grace is how he gets it; all he knows is that he gets it from God, through man. And so in Penn Station, where he was surrounded by men and women and children, he had this power, like a comic-book superhero who absorbs the energy of others until he bursts out of his shirt.
The article was chock-full of scenes like this. This was a wonder to me; the ability to see others (especially New Yorkers) as the conduit for God's grace. Mr. Rogers would probably never admit to being such pipeline himself, but for me, Junod's article is evidence that it was so. To open myself to that, to receive it, and to let people know, to make sure they realize, that that's what they are, each in his own way. Could I do that? I think I'll have to, eventually.
Who (or what) is the medium of grace for you?